Earlier today we launched a 33 day Indiegogo campaign with a goal of $30,000.
For the past two years, we've self-funded the event, pouring our heart and soul into creating the best event we possibly could. Looking back on those events, we are so incredibly proud of what we have accomplished so far.
This year, though, we realized we wanted and needed to reach out for your assistance. We wanted to bring people even deeper into the project and offer a way for anyone to be a part and show their support.
Ian and I hope you'll join us in making this year's WALL\THERAPY even greater than last year!
Thank you so much for your time and your support and we cannot wait to see you in July!
Erich Lehman
Co-curator, WALL\THERAPY
Below, I've included a bit about our fundraiser, including the perks we are currently offering. As some of the more limited perks get taken, we'll be adding other great perks – ESL.
+++
http://www.indiegogo.com/projects/wall-therapy-2013-fundraiser/
It is often said that the key to a healthy, rewarding life is to continually strive to improve upon yourself and the world around you. Just as with any therapy, no matter how beneficial a first treatment may have been, the benefits from continued treatment can be measured exponentially. In 2012 WALL\THERAPY was born, during the week long event, 11 street artists from across the globe created stunning mural art here in Rochester. The reaction from the community was immediate and overwhelmingly positive. That is why we are asking for your donations for a continuation of this endeavor, for WALL\THERAPY 2013.
It's time for our talented 'wall therapists' to make their journey back to Rochester and to offer their special brand of medicine to walls throughout our city.  Last year's budget was $40,000. What began in 2011 as "Visual Intervention" with four artists from Cape Town, South Africa and seven local artists has now become WALL\THERAPY, featuring 15 artists, and over 16 walls throughout the Rochester area! The funds we receive here will go directly to bringing together artists, both local and global, to offer their treatments to the generously donated walls and surfaces of Rochester.  Help us continue to give back to our community; to help create, to inspire and to revitalize the city that we love.
We ask for your donation and assistance to helping us reach our goal of $30,000 for WALL\THERAPY 2013. Your donations and spreading the word of this campaign will help make this year's event that much greater than before, and in turn have a greater impact on our community. Please consider donating as generously as possible to a cause which serves to beautify our urban landscape. Let's continue to inspire each other by breathing new life and energy to this city!
Thank you,
Ian, Erich, and the WALL\THERAPY Crew
To learn more about WALL\THERAPY, please visit our sites:
http://www.wall-therapy.com
http://www.facebook.com/walltherapyny
http://www.youtube.com/walltherapyny
THE PERKS
$10 – WALL\THERAPY DieCut Sticker
For your $10 donation, we'll send you a 5″ die-cut WALL\THERAPY logo sticker so you can show your support!
$35 – WALL\THERAPY T-SHIRT
To those who donate $35, they will receive wear a premium cotton, two color print (white and blue) WALL\THERAPY shirt. It's okay to be a bit cavalier as you wear this shirt around Rochester, letting everyone know that you are part of such a worthy and artistic cause.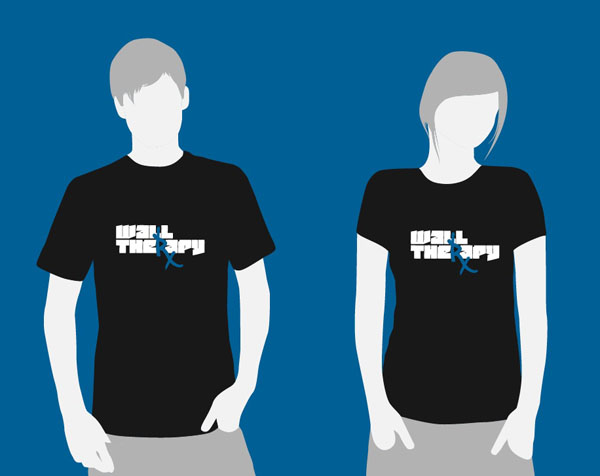 $50  – Mr. Prvrt Owl Print
A custom edition of 20 spray paint and stencil original artwork prints based off the owl designs Mr. Prvrt used during WALL\THERAPY 2012, created specifically for this fundraiser and only available here.
The print measures 14″x18″, on archival Stonehenge paper with one deckled edge. It will be signed and numbered on the back of the print. *Due to the handmade nature of this product, each print will differ very slightly, making each one unique
(20 available)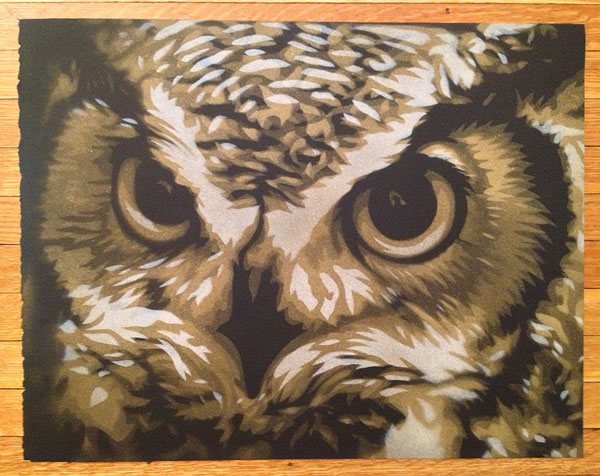 $75 – EXPOSED: WALL\THERAPY 2012 event catalog
This is a rare opportunity to get a copy of the extremely limited edition event catalog created by Partners & Napier for us to commemorate WALL\THERAPY 2012. This omnibus of awesome captures the true spirit of the endeavor, featuring the art and artists that made the event such a success. This beautiful large format book was not publicly released, but this is your chance to get one of fifteen copies made available through this fundraiser.
(Fifteen Available)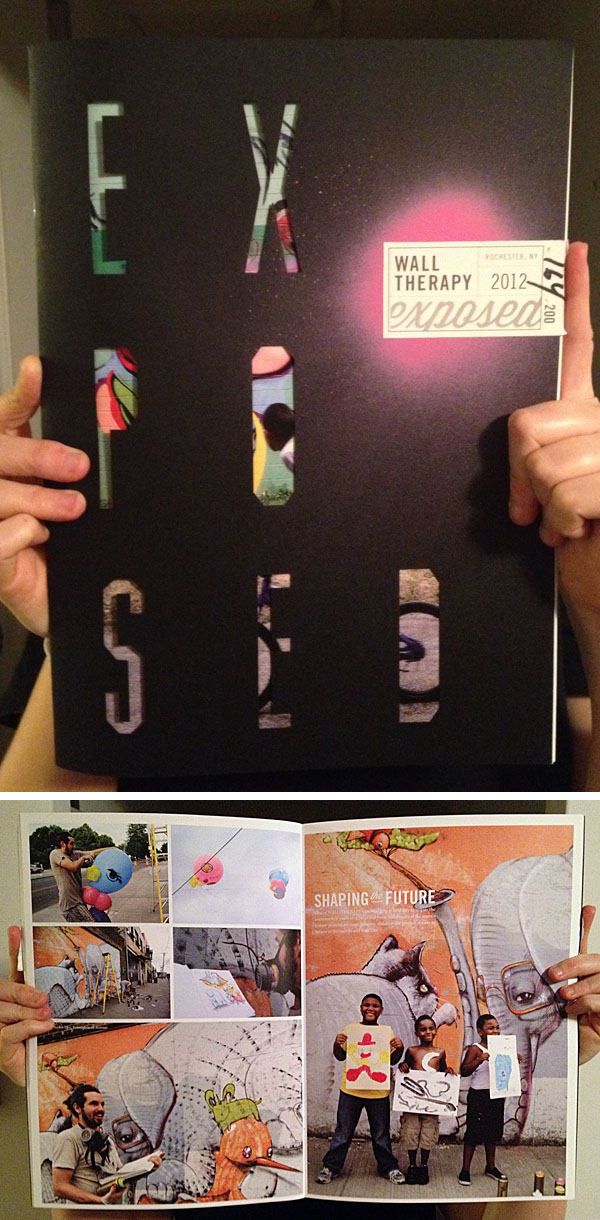 $150 – TICKET TO THE WALL\THERAPY 2013 WRAP DINNER
Should you wish to donate $150, you'll need to clear your social calendar on July 28, 2013 as you will be our very special guest at the event's wrap-up dinner. Join us at The Yards as we raise our glasses to the artwork created in 2013. To make sure you will always remember the festive occasion, you will be going home with a souvenir as well, a signed spray can used by one of the 2013 WALL\THERAPISTs
(Five available)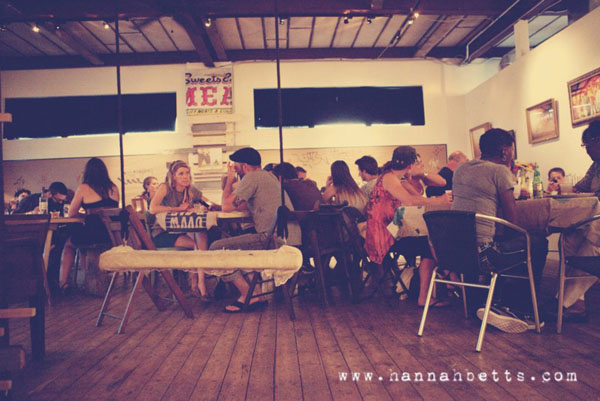 $300 – SIGNED PORTRAIT OF WALL\THERAPY 2012 ARTIST
When you donate $300 to this campaign, you will receive the opportunity to choose a stunning photographic print featuring one of the artists from WALL\THERAPY 2012. These artist portraits, captured brilliantly by photographer Jonathan Rutherford, are truly art themselves. Each print will by 11×17″ archival photographic print signed and printed by the photographer. This perk is limited to only 12 total portraits printed (in any combination). Number 70 of 175.
Please note the photograph you wish to receive during the donation process.
(Only 12 total prints will be produced)


Aritst Portraits from Top to Bottom, Left to Right:
How & Nosm
DALeast, Faith47*, ROA
Siloette, Cern, CASE
St. Monci, Mr. Prvrt, Thievin' Stephen
Liqen
*Please note, the portrait of the artist Faith47 does not actually depict the artist herself. Faith47 instead chose to pose and style local Rochester artist Lea Rizzo to represent her for the project. Faith47 was 100% involved with the look and feel for her portrait.
$350 – FRAMED BEN EINE PRINT
When you donate $350 to this campaign you will be offered a signed print by world-renowned artist Ben Eine as a thank you from us. Ben Eine's typographical art spans the globe and touches upon various genres, from the piece of Eine's artwork hanging in the white house, to his work in Snow Patrol's video for "Take Back the City".
(One Available)
Donated from the private collection of a member of the WALL\THERAPY Team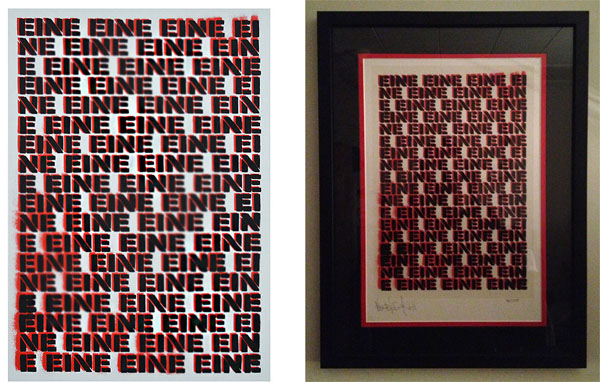 Ben Eine – Moniker 2010 print (shown framed as it will be delivered at right)
$1000 – HOWNOSM "Storm Predictions" print
Created in an edition of only 50 prints, this stunning print by 2012 WALL\THERAPISTs HOW & NOSM, was released by Paper Monster in the second half of 2012. Each 7 color screenprint is individually embellished by the artists using airbrush, India ink, collage, and hand-cut stencils, making each one truly unique. The print measures 24″x24″. How & Nosm have donated one print to this fundraiser, and we have a second print donated from the private collection of a member of the WALL\THERAPY Team.
(Two available)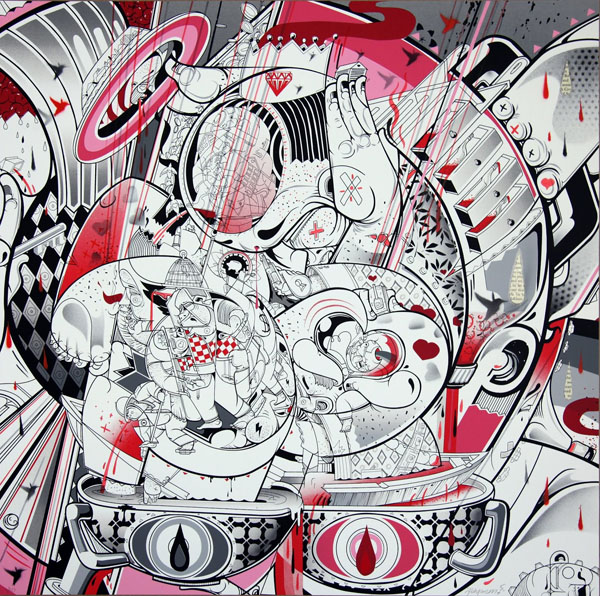 HOWNOSM Storm Predictions
$1000 SPONSOR LEVEL
Would you like to be an official sponsor of WALL\THERAPY 2013? A donation of $1000 will be all that it takes to have your name alongside this project on our website. As sponsor, you are also showered with wondrous thank you gifts like a copy of the WALL\THERAPY 2013 book (to be completed after the event finishes), die-cut logo stickers, a t-shirt featuring the logo, and tickets for two to join us at our wrap-up dinner in July.
(Ten Available)
$5000 PRODUCER LEVEL
For the donor that wants to go all the way and ensure this campaign is a success, $5000 donations will earn them Producer level credit on WALL\THERAPY. Our Producers will receive a copy of the WALL\THERAPY 2013 book, one of our t-shirts emblazoned with the event's logo, and tickets for two to the wrap-up dinner in July. Also, those that generously donate this amount to the campaign will have their name listed on the website in our sponsors and donors section. The logo for your company (or name if preferred) will be added to our website and a Producer credit will be given in the 2013 book and documentary.
(Two available)
http://www.indiegogo.com/projects/wall-therapy-2013-fundraiser/